With 3.5 million STEM jobs projected to open by 2025 and only 2 million expected to be filled, it's clear that companies will need to get creative to find this kind of specialized talent. Upskilling your existing workers can be one of the ways to address these gaps — and chances are a good portion of your workforce agrees. Forty-nine percent of the employees surveyed in our Q2 Workmonitor report had already taken the initiative to learn about A.I., specifically, on their own because their employers weren't providing enough training opportunities. Addressing your employees' thirst for knowledge and upskilling them in areas affected by the STEM talent shortage can position both your business — and your employees — for success in the new world of work.  
why upskill? 
Randstad's Workmonitor report unveiled a growing sense of regret among respondents who chose career paths other than STEM. Seventy-two percent of employees who responded to the survey said they think more students should focus on STEM careers, with 68 percent saying they themselves would do so if they could go back in time. And while you can't change the laws of time and space, you can help these workers get training in these key areas — and in so doing, ensure your critical business needs are covered. 
72% of employees said more students should focus on STEM careers and 68% said they would do so themselves if they were once again 18. 
What's clear is that, when it comes to upskilling, your workers are willing. And with few alternatives available on the job market (a majority of respondents said they expect it will be increasingly difficult for organizations to find the right talent in the future), retraining your existing workers can be an easy win-win — for employees and employers alike. 
of respondents said their employers are having trouble finding the talent they need today. 
higher engagement and lower turnover
With the STEM talent market as tight as it is today, you can't afford to lose the talent you already have. Investing in upskilling can not only improve the capabilities of your workers, it can improve employee morale, too.
Eighty-two percent of employee respondents to an earlier Workmonitor survey said that lifelong learning was important to them, but 40 percent said their employers didn't provide enough upskilling opportunities. If you're an employer who falls into the latter category, that could prove problematic. Lack of career growth is one of the top reasons that employees choose to leave, so if you're not prioritizing training, you may see engagement levels decrease — and when that happens, turnover is never too far behind. 
Highly engaged teams were found to be 21 percent more profitable than those with lower levels of engagement. So keeping morale high can have a big impact on your bottom line.
Improving employee engagement can increase profitability, maximize productivity and reduce turnover.
position your business for future success
Investing in upskilling will address your talent needs for today, but it can also place your business in a better position to succeed tomorrow. 
Unfortunately, our survey revealed that a majority of employers still have some work to do on this front, as 62 percent of respondents said they felt that their employers should be investing more in developing digital skills.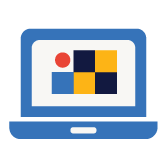 62% of employees said their employers should invest more in developing digital skills with 49% choosing to learn about tools like A.I. on their own because employer training options were limited.
The workforce is changing, and increased digitalization will continue to alter the types of positions you'll ultimately need to hire for in the coming decade. Twenty-seven percent of respondents said they believe their own jobs would be automated in the next five to 10 years. But by training at-risk workers in advance and empowering them to take on new roles that aren't in danger of becoming obsolete, you'll be able to retain more of your workforce — and better deliver on business goals.
of respondents said their employers have an increasing need for STEM talent. 
key takeaways 
Our Q2 Workmonitor report painted a picture of a workforce in flux. Fear of automation and a desire for greater job security pushed STEM to the forefront of the most coveted fields, with 47 percent of respondents saying that their employers have a greater need for STEM talent. Unfortunately, with more STEM opportunities than there are job seekers, filling these roles has become increasingly difficult — which means upskilling should be more of a priority than ever. Done right, upskilling can address both employers' need for STEM talent and workers' desire to gain new skills. That should help everyone succeed in the future. 
Visit the Randstad Learning Center for more information on how to upskill your workforce today.